From the Headmaster
What is one looking for in a good school?
"A good school should offer more than just a consumer service which delivers strong academic results and a range of absorbing extracurricular activities. It has a much higher responsibility of providing a seaworthy vessel for a young character to begin a journey through an often difficult and demanding world, in which values which once seemed steadfast are challenged and in which stability is never assured for long. The spiritual and human values a school nurtures are central to its existence, which is why the role of a teacher is such an exciting and influential one and why teaching is a vocation and not just a job."
"Many people who find fulfilment in their careers, when asked why they discovered a particular gift or followed a particular path, will look back to the effect on them of an influential teacher or an opportunity given to them when they were young. They will remember someone who believed in them and who believed that they were capable of more than they themselves realised. A good school should concern itself with increasing the chance of such encounters and opportunities."
"We applaud academic success at every level but in these days of economic uncertainty young people need to remember that it will often take more than just high grades and impressive degrees to open doors. Passion, commitment, adaptability and lateral thinking may well be the keys to fulfilment in tomorrow's world and a good school should see the nurturing of such qualities as far more than an optional extra."
Nicholas Kaye, Headmaster
---
Nicholas Kaye
M.A., A.C.P., F.R.S.A., F.R.G.S., Magdalene, Cambridge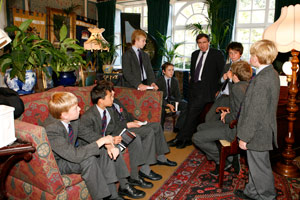 Nicholas Kaye read English at Magdalene, Cambridge. He undertook music research at the City University and has a Diploma in Religious Education. He became Headmaster of Sussex House in 1994, having been Deputy since 1986.
Shortly before taking over he initiated a buy-out from the trust which had previously owned the school as part of a group and set up an independent charitable trust for Sussex House. This new era in the school's life was accompanied by major restoration of the house, considerable enhancement of facilities and the appointment of new staff to key positions. He teaches all boys in the top three years of the school, conveying something of his passion for English literature and for creative writing.
He is Form master of one of the sixth forms and runs a vibrant Architecture Club, involving architectural tours in London and beyond. The Headmaster plays a major role in the spiritual life of the school, leading assemblies, preaching at school services and running a group of talks by visiting speakers. He has written a series of plays and directs an annual sixth form production.
He has undertaken research into late 19th century and early 20th century French composers, has written a series of articles for The New Groves and conducted orchestral and choral works as Musical Director of the St. Mary Magdalene Music Society based in Little Venice. Boys regularly take part in these concerts.
He is a trustee of the Asra Hawariat School in Addis Ababa, which he visits regularly, and strong links have been established with Sussex House.  He is an educational consultant to the Malcolm Arnold Academy, Northampton, a trustee of the Albert Schweitzer Institute, a Freeman of the City of London and a Liveryman of the Worshipful Company of Bakers.